ISO 50001
ISO 50001 is a standard norm that provides a complete tool for the effective management of energy. The advantage is that it is an international concept, which is implemented in dozens of countries around the world. This standard does not only focus on an immediate energy saving but its strength lies in the sustainable management of energy. This document replaces the standard EN 16001: 2009. One of the advantages of this standard is that it is compatible with other standards, specifically with ISO 9001 and ISO 14001from which it has been modeled. Currently, the state of the energy administration and the global pressure to reduce the energy consumption of large companies make ISO 50001 one of the tools that can make you achieve energy efficiency.
For the implementation of the ISO 50001 standard, we cooperate with Dekra Certification, which has more than 20 years of experience in the implementation of the ISO standard.
Main Benefits:
Selective optimization of energy management
Resolution of complex problems
Individual approach to the issue of energy management in a clear scheme
Indicated for:
Selective optimization of energy management

Resolution of complex problems

Individual approach to the issue of energy management in a clear scheme
The advantages of having an international standard:
Relationship of the senior management policy of energy management (SGE) - the structuring of the organization, expressing its support for the improvement of the SGE and ensure its functioning properly.
Energy policy of companies - to meet SGE commitments, related to other documents, clarity, and accuracy of information and policy review.
Energy programming - specifies the determined status, the analysis of current needs, anticipates the correct direction for future modifications, legal requirements and the identification of important points with potential for optimization.
Implementation and operation - to determine the responsibilities of the implementation of the SGE on the complexity of the energy reduction process, the training of personnel to achieve the objectives of the organization, to determine the type of communication, to ensure the required documentation and the file of data and for the design and purchases necessary to reduce consumption.
Management control - to verify compliance with SGE objectives, monitoring, and measurement, analysis of results, compliance with legal requirements or correct deficiencies detected.
The last point is the review of the entire management system - examine all the points and consequently all the management, which suits the objectives and issue a report on the new modifications.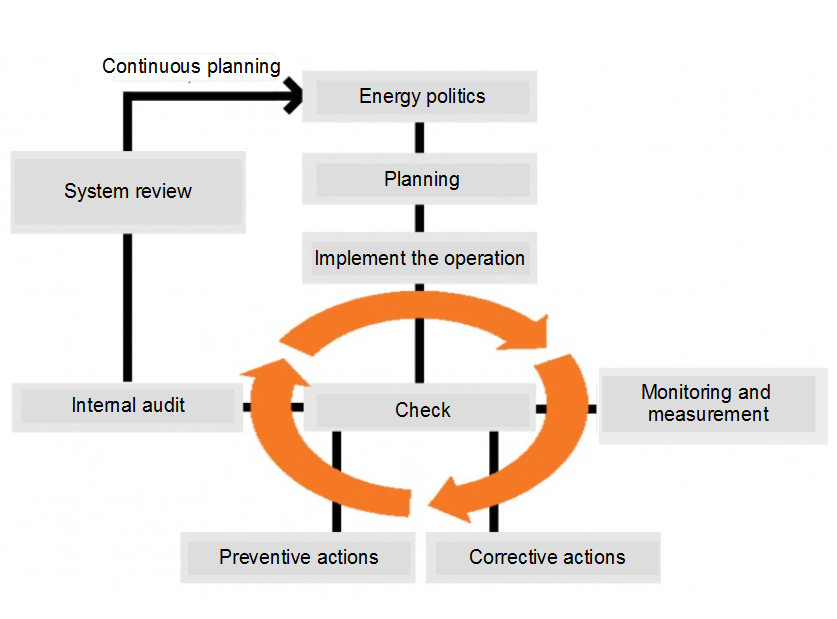 The certification according to ISO 50001 can be applied to any organization. It can be companies of different sizes, as well as educational institutions, cities or municipalities, hospitals, etc.
Are you interested in implementing the ISO 50001 standard? Contact us