Smart metering - Technical information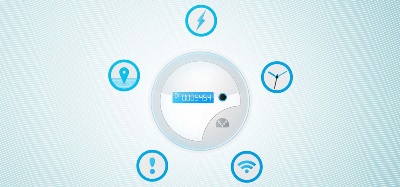 Smart metering system
It is a metering framework with a large number of interconnected measure points. Through systems of remote measurement, these units are connected to a so-called concentrate (either through cables or wirelessly). The concentrate collects  data in real time and uses them as the basis for the assessment of consumption of energies and their flow.
We are able to connect the metering system with an online application (e.g. the Enectiva software) where it is possible to monitor the data in real time, even from the other side of the planet.
Smart metering systems is the cornerstone of the so-called smart networks or smart grid.
Smart grid
Broadly speaking, a smart grid is a communication network of producers, distributors, and consumers of electric energy. Smart grids make it possible to control and regulate the production and consumption of electric energy in real time. This can be done on both a local or a global scale. Due to mutual communication between smart metering systems and sources of production, it is possible to accurately predict the development and to produce and distribute electric energy, which significantly reduces the chances of black-outs. In case of a breakdown, the problem is detected  right away and its handling is fast and accurate. This is due to an immediate response. Moreover, smart grids simplify the integration of renewable resources of energy in private property into electric network and their control.

These days, smart grids are being tested and introduced on a large scale especially in the West. In the Czech Republic, only one intelligent network is being tested in this moment – it is the Smart Region Vrchlabi. The results of the tests will serve as key factors in the development and introduction of smart grids in the Czech Republic, as well as in the whole of Europe.

The smart metering systems mentioned above are the basis of smart grids.
Enerfis and smart metering
Enerfis is authorized by the Czech Metrology Institute to officially install meters, which enables us to provide the supply of metering systems. Installation of meters an their connection to the Enectiva online system, where you may follow and compare measured data, will help you make your energy management as effective as possible and your energy expenses as low as possible.

The Enectiva system is independent on protocols of lower levels, we are therefore able to install systems on various buses, including  M-bus, WirelessM-bus, RS-485, Modbus etc., as well as we are able to read pulse output meters.
With automatic gathering of data and connection to an online system, you can:
Monitor consumption and detect wasting
Charge individual tenants
Follow trends and set up goals
Generate warnings and notifications automatically
Compare consumption with climatic data
Are you interested in installation of metering systems?Contact us