O našem blogu
Přečtěte si, proč tento blog píšeme. Najdete zde také informace pro přispěvovatele.
Hydrogen as a renewable option
What is hydrogen?
Hydrogen is the most abundant element in the universe. Stars are mainly made up of this gas, which can also be found in a liquid state.
Hydrogen is a really powerful element: it has three times as much energy as gasoline. But unlike petrol, it is a clean source of energy, as it only releases water, in the form of vapor, and does not produce carbon dioxide.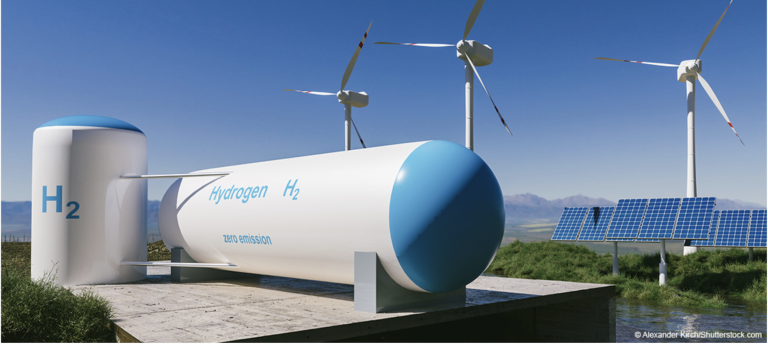 The 3 types of hydrogen
Grey hydrogen: hydrogen obtained from fossil fuels, such as natural gas and coal. 
Blue hydrogen: hydrogen that is also obtained from fossil fuels, but without the release of carbon dioxide. 
Green hydrogen: hydrogen obtained from non-conventional renewable energy sources, such as biomass, wind, solar and geothermal heat, among others. 

Countries that contribute the most to the use of green hydrogen.
Australia: Australia is the leading country in the field of hydrogen, with five mega-projects planned due to its size and the fact that it uses mainly wind and solar energy. Its project is the largest in the country and the world called Asian Renewable Energy Hub which plans to build electrolysers and generate 14 GW.
Netherlands: In this country they are starting a project called NorthH2 that plans to build up to 10 GW of electrolysers, their goal is to have 1GW by 2027 and 4 GW of offshore wind energy alone by 2030.
Germany: Germany and the Germans also have their green hydrogen projects, the biggest one is called AquaVentus which will be built on a small island in Heligoland. The idea is to generate 10 GW of energy by 2035, and they also have a second project in Rostock which is expected to generate 1 GW. All of this will be achieved by a consortium of 27 companies, organizations and research institutions.
China: China has always been the main producer of hydrogen but not using hydrogen in a clean and sustainable way but using hydrocarbons. However, they are planning a mega-project in which they will invest 3 billion dollars to start their renewable energy production in which it is estimated that they will be able to produce 5 GW.
Saudi Arabia: The Arab country, despite having the largest oil reserves, also intends to innovate in the field of green hydrogen with a project called Helios Green Fuels Project, which will be located in the futuristic city that is being planned to be created on the shores of the Red Sea called NEOM. It is believed that the 5,000 million dollar project will generate 4 GW by 2025 by placing electrolysers.
Chile: The country that is already considered a solar energy mecca was the first in all of South America to have a "national green hydrogen strategy" and is the only one with two projects called HyEX and Highly Innovative Fuels. The first, located in northern Chile, will use solar energy to power electrolysers to generate 1.6 GW for use in mining, and the second will generate 1 GW commercially. According to the Chilean energy minister Juan Carlos Jobet, they aim to export clean fuel in the future.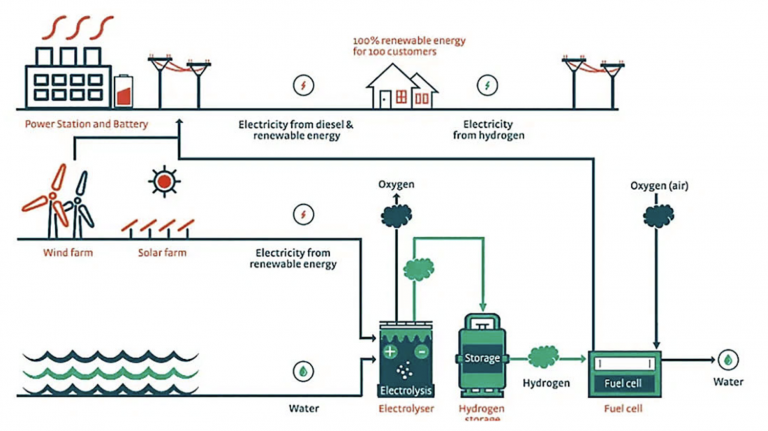 Advantages of hydrogen
Can be used as a direct fuel and as an energy carrier for energy storage.
Non-toxic.
Abundant in nature.
It is considered a clean energy because it is obtained through renewable energies.
Its combustion does not generate polluting emissions.
High energy efficiency.
Low density and high volatility, safe in open spaces.
In its use in fuel cells, 100% of its energy is used.
Silent operation (recommended for urban use).
Disadvantages of hydrogen
Costly to obtain as it is not a primary material.
Storage techniques are currently underdeveloped.
High price of hydrogen in its pure state, due to the cost of obtaining it.
Unsafe due to its low activation energy.
Its production requires other energies that may not be clean.
The resulting energy surplus sometimes does not compensate for the energy used.
Its high price cannot compete with conventional energy sources.
Little knowledge of its potential at user level.
For more information about renewable energies and the solutions we offer, check out out Enectiva website.