O našem blogu
Přečtěte si, proč tento blog píšeme. Najdete zde také informace pro přispěvovatele.
Mission in DYI paradise accomplished
Bragging about your achievement is not good, but then again shared happiness is double happiness. And we can't help it. We simply want to share with your our latest success in OBI in Modřany, a leading European DIY brand, referred to as paradise for all do-it-yourself guys out there.
If you don't know what to do, OBI is where you go to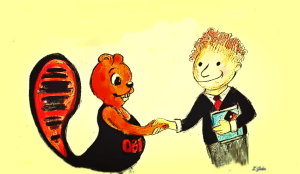 Every do-it-yourself guy knows that in OBI he can find anything he needs to beautify his beloved house or garden. The area of the stores often exceeds 10 000m² and so it is no suprprise that the costs of power consumption are very high. Well, if you don't know what to do what to do with your energy consumption, there is always one place you can go to. When managers came up to us, our mission was clear: find hidden power waste, design and implement economical solutions with shortest returnability.
Before we could start designing economical solutions, we took a close look at current energy consumption of the structure. Based on physical inspection, we completed a detailed analysis which served us as a platform for designing economical situations. Finally, we developed 8 economical solutions which will lead to savings of  304 740 CZK per year. Most of these were low-cost solutions with an immediate or several months long returnability. In addition, we introduce managers of OBI with principles of effective energy management which will help them to further improve their use of energy.
As our cooperation with OBI shows, investments into economical solution don't need to be necessarily high in order to gain invaluable benefits.